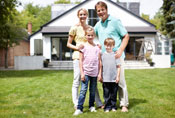 Mortgage Life Insurance can help care for your family's financial situation by paying off the outstanding balance of the mortgage on your home with a cash sum should you die before the end of the term of your policy. The level of cover decreases in line with a standard repayment mortgage, so you are only paying for the life cover your require.
You can take out Mortgage Life Insurance as a single or joint life policy, with the cash sum being paid out on the first claim only. You choose the number of years the policy will be in place and the level of mortgage life cover your require when you take out the policy. Critical Illness benefit can also be added for an increased premium. By adding Critical Illness benefit the policy will pay out either on death or the diagnosis of a specified critical illness, whichever occurs first.
As soon as the sum insured is paid out, the mortgage life insurance policy ceases. If you survive the term and the sum insured has not become payable then the plan ceases and nothing is paid out as this product has no cash in value at any time.
Get A Quote