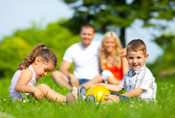 Level Term Life Insurance means the level of cover remains the same throughout the term of your policy. You decide the number of years the policy will be in force and the level of cover you require when you take out the policy. A level term life insurance policy can be taken out as either a single life policy or as a joint life first death policy, where the sum insured is payable on the first death. Critical Illness benefit can also be added to most level term life insurance policies for an increased premium. By adding Critical Illness benefit the policy will pay out either on death or the diagnosis of a specified critical illness, whichever occurs first.
Most policies include cover for diagnosis of a terminal Illness during the plan term at no extra cost.
As soon as the sum insured is paid out, the life insurance policy ceases. If you survive the term and the sum insured has not become payable then the plan ceases and nothing is paid out as this product has no cash in value at any time.
Level Term Insurance is a plan designed to help financially protect your family in the event of your death and can be used to help towards;
Settling your outstanding mortgage debt, credit cards and other loans
Maintain your family's standard of living
Help pay for your children's education
Get A Quote